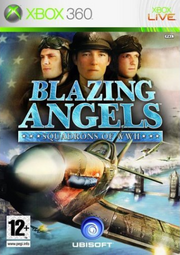 Blazing Angels: Squadrons of WWII is a flight combat video game for the PC, Xbox, Xbox 360, PlayStation 3 and Wii. It was developed by Ubisoft Romania during the second fiscal quarter of 2006 for both the North American and European regions. The game features 46 different World War II fighter planes and allows the player or players to take part in several WWII events (20 missions) as a fictional squadron. Online support allows 16 players to take part in head-to-head and co-operative battles. Blazing Angels: Squadrons of WWII was released on March 24, 2006 in the United States and March 31, 2006 in Europe. It is the first game of a 2 game series. It takes place during World War 2, and revolves around an Allied squadron fighting through the Axis forces on major fronts.
There are four main factions in the game: America, Great Britian, Germany and Japan. However, the player and his/her squadron are on the allied sides, America and Great Britian.
Achievements/Trophies

EditEdit
On the Xbox 360, there are seven achievments. They are as follows:
Colonel: "With valor comes recognition. Your rank in the air force tells your full measure." Worth 100 Gamerscore
Ace Killer: "You have been recognized as the Ace Killer! All other Aces have accepted defeat." Worth 150 Gamerscore
Collector: "You have unlocked and collected all the planes and you became a real WWII Collector." Worth 125 Gamerscore
Veteran: "You are one of the pilots who outlived WWII and had the chance to tell the othersabout it." Worth 150 Gamerscore
The Ace of Aces: "You are the best pilot! You have achieved the highest score in all campaign missions to prove it!" Worth 175 Gamerscore
Survivor: "Survivor means "the one who outlives the another" You have outlived your enemies in Arcade Mode!"Worth 150 Gamerscore
Hero: "Few pilots in history achieved combat exellence and earned all medals. You are one of them!" Worth 150 Gamerscore
The Eagle Squadron is the name of the player's squadron in the game. It is made up of the player, Tom "The shield", Joe "The mechanical wizard" and Frank "The hunter". The player's name is not revealed in the game, but some pilots call him "Captain".
Community content is available under
CC-BY-SA
unless otherwise noted.