Welcome to the Blazing Angels Database
[
]
A new take on a relatively old genre, Blazing Angels is a two-volume game series that focuses on squadron-based aerial combat during World War II. The player takes the part of the main character in each game and leads the squadron through a series of missions that center around the elimination of enemy forces in the every theater of the conflict using one of the multitude of aircraft produced by the Allies (United States, Britain, Russia) and the Axis (Germany, Japan). The game features first-person (cockpit) and third-person (chase camera) views as well as traditional arcade and home console flight control schemes. Players can select which they want according to their personal preference.
Blazing Angels: Squadrons of World War II
[
]
Plot and Storyline
[
]
Characters
[
]
Theaters of War
[
]
Aircraft
[
]
Blazing Angels: Secret Missions of World War II
[
]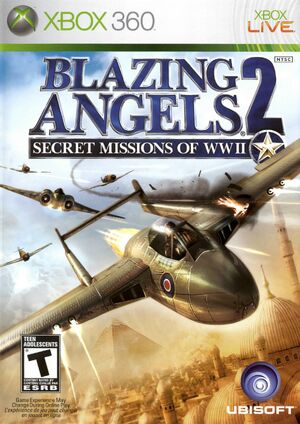 Plot and Storyline
[
]
The story follows the exploits of Wildcard Squadron, a ragtag group of pilots with special skills assembled by Captain Christopher Robinson to take missions so secret that only the highest government and military officials are privy to information on their operations.
Characters
[
]
Christopher Robinson - Player character, commander of the Wildcards
Edward "Teach" Thatcher - Wildcard second-in-command, expert pilot
Miles "Milo" Winchester - Wildcard expert mechanic, tech wizard
James "Cowboy" Thorpe - Wildcard expert gunner, gung-ho fighter
Emily "Marguerite" Ruston - British spy
Maximilian Wurmheller - German crack pilot, defects to Wildcards
Heinrich von Kluge - German commanding officer, loyal Nazi
Theaters of War
[
]
Aircraft
[
]
Fighters
Multiroles
Bombers